5/16 to 5/18 Series Preview: Kansas City Royals
08.10.2020
No Comments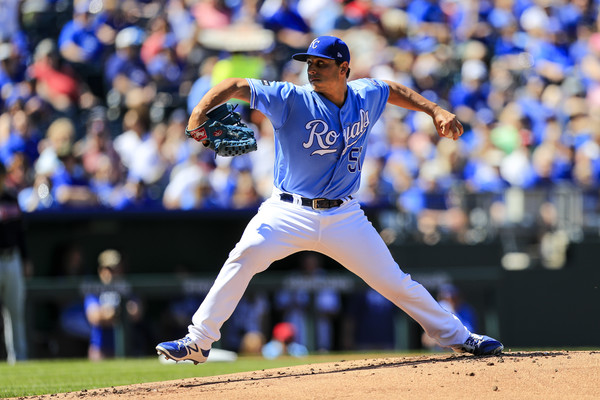 Vargas. (Brian Davidson/Getty Images North America)
The result of the Yankees having so many days off through the first six weeks of the season starts now, as they will not be off again until June 5. That's twenty games in a row without a day off; luckily, they will not have to travel all that far in that stretch with this week's trips to Kansas City and Tampa Bay representing the furthest journeys. Given the heavy workload handled by the bullpen this weekend, though, it seems all but certain that the team's depth and Joe Girardi's hand will be tested as soon as this evening.
The Last Time They Met
The Yankees visited Kansas City for a three-game series to close out last August, winning two along the way. They were outscored by one run in the series as a whole, with both of their victories coming by one run, and taking extra innings to sort out. Some other interesting bits:
The Royals tested Gary Sanchez's arm throughout the series, and largely got the better of him. They stole eight bases, and were caught just twice. Sanchez threw out 10 of 21 would-be base-stealers against teams that weren't the Royals last year.
Chasen Shreve was one of the heroes of the series, which feels strange to see on the screen. He came into the second game with the bases loaded and one out, and struck out Kendrys Morales swinging (on three pitches) before retiring Salvador Perez on a flyball. Shreve chipped in two scoreless innings in the third game, with three more swinging strikeouts (Cheslor Cuthbert, Eric Hosmer, and Perez were the victims this time around).
The Yankees game-winning runs were scored on a weak infield single by Jacoby Ellsbury and a sacrifice fly by Brian McCann, respectively.
Seven pitchers were used by the Yankees in game two and, in what seems almost impossible, all seven are still in the organization. And of those seven, only Ben Heller is not on the active roster.
Check out Katie's Yankeemetrics post for more details about this series.
Injury Report
Former Yankee Ian Kennedy is on the disabled list with a hamstring strain, and is scheduled to throw a bullpen session this week. There is no set return date as of yet, but he isn't expected to be out too long (he could be in-line to face the Yankees when these teams meet again, in fact). Middle reliever Scott Alexander is out, as well.
Their Story So Far
The Royals are last in the majors in runs scored by a comfortable margin, and are scoring just 3.2 runs per game. They are currently 8-18 when they allow two runs or more, and that's with them having won six of their last seven games overall. It doesn't help that Alex Gordon and Alcides Escobar both sport an OPS under .500, and it seems less than ideal that one of those two has batted first in …
Read Original Post at
http://riveraveblues.com/2017/05/516-to-518-series-preview-kansas-city-royals-153963/
Sports Media 101 searches and spiders for news it aggregates from across the web about your favorite sport or sports team. This article is originally posted at another site not affiliated with Sports Media 101. The portion of the article posted here is to provide a sample of the content available at the linked site. Please click the link to read the full article. Sports Media 101 does not claim any ownership to the content and all rights are retained by the original copyright owner.